Quick-Campus, when you simply need to go online
Now, every school can afford to quickly GO ONLINE.
Since 2003, Datapacific Corporation has been automating large colleges and univeristies in the Philippines. However, we recognize that some schools simply want to automate their enrollment or go online, and do not need the entire ERP (Enterprise Resource Planning) School Management System deployment. Other schools want to automate just the basic operation, while maintaining the option to incorporate other features and modules later.
With Quick-Campus, Datapacific is bringing the basic subset of Campus++ Integrated School Management System to all levels in the education sector while maintaining the option to deploy other modules as you go. It provides instant and rapidly-deployable school service in cloud-based (hosted in servers in world-class H.K. and U.S.-based datacenters) Linux clusters subscription model designed to keep both your initial and subscriptions costs low.
The basic academic package allows you to quickly go online at a minimal subscription cost. You also get up to two (2) years 100% REBATE GUARANTEE when you are ready to move to our most integrated and most complete campus solution today (Campus++ or Campus-SAT). You can even move up to Campus-Lite full ERP subcription model seamlessly (no re-migration) and get a rebate on your set-up fee.
Since the monthly pricing model is based on the number of students currently enrolled, Quick-Campus is an ideal campus solution for small schools who do not wish to spend resources on expensive and large-scale IT projects. There is no large investment to make and no minimum long term contract to fulfill.
Solution Roadmap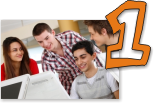 Get the basics quickly running:

Admission Support Module (with scholarship)
Student Information (Registrar and Guidance) Module
Enrollment Support Module (with class scheduling and faculty loading)
Accounts Receivable (& Cashiering) Module
Student Performance (Grade Book) Module

 

---

Then, immediately go online:

Students & Parents Portal Support Module for online payments, grades viewing, online enrollment, etc.
EDU-PH free website hosting

 

---

Add modules as you go:

Campus Operation & Ancillary Services

Marketing Analysis Support Module
Student Service (& Faculty Evaluation) Module
Library Support Module
Laboratory Support Module
Student Health (Medical & Dental) Module

Campus-Retail

Canteen and Bookstore POS
Campus-Wallet Smart Card technology
Parents Portal components

Accounting Services

General Ledger Module
Accounts Payable Module
Cash Management Module

Human Resource Services

Personnel Information Module
Employee Medical Benefits Module
Timekeeping & Personnel Tracking Module
Bundy Clock Integration

Payroll Services

Payroll Support Module
Staff Advances & Loans Module

Corporate Services

Purchasing Support Module
Supplies and Materials Inventory
Asset Management Module

On Pilot for 2013 - 2014 Release

Fetcher's Gate Control Module
Instructional Media Services Module
e-Checker (PC-less classroom ID reader)
Auxiliary Services Job Control Module
Montessori Training Materials Management

 

---

Move up to a fully integrated package:

2 years 100% subscription rebate on Campus++ or Campus-SAT
100% rebate of set-up fee on Campus-Lite
Move up seamlessly